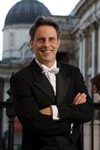 The LMA Orchestra presents a unique opportunity to deconstruct, get involved with and fully understand a complex piece of Beethoven's music.
Booking from: Saturday, 17 November 2012
Booking until: Saturday, 17 November 2012
Evenings: Saturday 7.30pm
Running time: 2 hours

Playing at the St Martin-in-the-Fields.
This fascinating Musical Journey through Beethoven's ground-breaking 'Eroica' Symphony is sure to be a completely new experience for all listeners. Guided by the experienced conductor and presenter John Landor, you will be immersed in its musical and historical context and become part of the musical action as they reveal the different layers of the music, explore its meanings - and invite you to help them by humming and clapping along to some of the excerpts!
The first half concludes with their unique orchestra 'walkabout', where the musicians perform extracts spread out among the audience, a thrilling close encounter with the sheer physicality of Beethoven's musical utterances. By the time you hear the work in full after the interval, you will be sure to greet it as an old friend.
Programme
Beethoven - Symphony No 3 in E flat 'Eroica' op 55