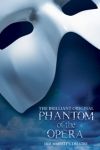 Her Majesty's Theatre is proud to present Lloyd Webber's wonderful classic tale of love and obsession. It's the magical, unforgettable Phantom of the Opera, a musical masterpiece that traces the tragic love story of a beautiful opera singer and the disfigured young composer who loves her. Fabulous!
Booking from: Thursday, 1 January 1970
Booking until: Saturday, 26 April 2014
Matinees: Thursday and Saturday 2.30pm
Evenings: Monday to Saturday 7.30pm
Running time: 2 hours 30 minutes

Playing at the Her Majesty's Theatre.
Phantom of the Opera tickets – High drama, soaring music, spectacular effects!
Let Andrew Lloyd Webber and a star cast lead you into the shadowy underworld beneath the Paris Opera House. It's a gloriously dark affair of opulent sets and costumes, fabulous special effects and a spine-tingling score.
The Phantom of The Opera, continues its unprecedented West End run, a musical that steamrollers on, showing absolutely no sign of running out of steam.
It's based on a classic French thriller about a terrifying legendary figure who emerges from the depths of The Paris Opera House to manifest the mythical opera ghost. Terrifying convincing, with some of the most lavish sets, costumes and special effects the West End has ever seen, Phantom of the Opera is a real musical phenomenon. After the world premier at Her Majesty's Theatre in London in late '86 it has played almost 10,000 times in London alone. Worldwide it has thrilled audiences in ninety cities and won more than fifty major theatre industry awards.
Wonderful acting. And a stunning score, poignant and evocative. It's an experience you'll treasure for the rest of your life. Book now for one of the West End's best musicals!
Please Note: the sides of the grand circle are side view restricted. The rear of the stalls and royal circle are restricted by the overhang.
Phantom of the Opera in the press
Soaring ballads and sensational stage effects.
The Daily Telegraph