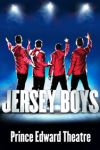 It's the story of a group of working class boys. From the wrong side of the tracks. Who became one of the pop industry's biggest successes. Jersey Boys tells the rags to riches tale of Frankie Valli and The Four Seasons, following their progress through the thrilling early years of rock 'n' roll.
Booking from: Thursday, 28 February 2008
Booking until: Sunday, 16 February 2014
Matinees: Tuesday & Saturday 3pm and Sunday 5pm
Evenings: Tuesday to Saturday 7.30pm
Running time: 2 hours 30 minutes

Playing at the Prince Edward Theatre.
Jersey Boys tickets – Frankie Valli and the Four Seasons brought to vivid life!
London's Prince Edward Theatre is home to the smash hit musical Jersey Boys, which follows the American Dream-style tale of Frankie Valli and the Four Seasons as they work their way from the streets of Newark to the heights of stardom.
You'll love hearing their hits live, wonderful songs like 'Sherry,' 'Big Girls Don't Cry,' 'Can't Take My Eyes Off of You,' 'Oh, What a Night' and many more. It's directed by Des McAnuff. There's a book by Marshall Brickman and Rick Elice. And the music and lyrics are by Bob Crewe and Bob Gaudio, an original band member. Jersey Boys has won four Tony Awards; Best Musical, Best Actor in a Musical, Best Featured Actor in a Musical and Best Lighting Design. So it's a classic of our time.
This is clever, subtle stuff as well as huge fun. There's nothing stilted about it. You don't feel the songs have been forced into the plot. They weave through the plot seamlessly because the whole show is about musicians. You'll love the way the music illustrates the progression and development of the Four Seasons' unique style.
Whether or not you're a Frankie Valli fan you'll be thrilled by this real, intelligent tale of an American Dream come true. It's uplifting and exciting, thoughtful and inspirational. Even more so because it's true. So book now and treat yourself to a real musical gem!
Please be aware Jersey Boys contains genuine New Jersey language which may not be suitable for younger audiences - parental guidance advised.
Dress Circle Row A and Row F and Grand Circle Row A and Row H may be restricted view with a handrail in front.
Jersey Boys in the press
Let's hear it for the Boys. I suspect, it'll be some time before London says Bye Bye Baby (Baby Goodbye) to the phenomenal Jersey Boys
The Daily Telegraph
Oh what a night of magical memories. This is an utterly wonderful show full of vitality, pace and power
The Daily Express