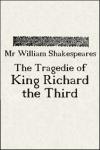 This all-male portrayal of the Bard's best ever baddie proved a huge hit at the Globe Theatre, so much so that it's transferring to the West End for a brief but glittering run. If you like your villains as bad as they get, you'll adore this marvellous production of the well-loved Shakespearian classic.
Booking from: Tuesday, 6 November 2012
Booking until: Sunday, 10 February 2013
Matinees: Wednesday and Saturday 2pm, Sunday 3pm
Evenings: Tuesday to Saturday 7.30pm

Playing at the Apollo Theatre.
Limited edition Shakespeare… how can you resist? Richard III enjoyed record breaking ticket sales at Shakespeare's Globe Theatre, and now it's transferring to the Apollo Theatre in London's glittering West End. But it's a strictly limited run, so get your skates on!
Richard III - The story
Richard, Duke of Gloucester, is discontented. Dramatically so. He seethes with constant jealousy, and his ambition knows no limits. This is the latest interpretation of the famous crippled King's character, previously portrayed as pathetic, malevolent and everything in between.
Richard Duke of Gloucester, played by Mark Rylance, covets the crown of England. He has already killed off one king, and the king's son, and the only things that stand in his way are two brothers and a couple of helpless young nephews, the infamous Princes in the Tower. He's so obsessed that he'll stop at nothing to realise his ambitions, and raising objections is a deadly dangerous pastime.
The monstrous Richard is Shakespeare's most charismatic villain, a proper baddie with no redeeming features: murderous, hypocritical and totally power-crazed.
Immerse yourself in brutal, colourful 16th century England
This production explores the clothing, music, dance and settings of late 1500s England, a treat for the eyes as well as the ears. Exactly how far will William Shakespeare's hot-headed despot go to achieve absolute power?
Richard III theatre tickets for every budget
We offer excellent and varied seat and ticket availability with a wide choice of seat options, with premium and full price tickets as well as discount Richard III tickets. Book now and shiver with disgust at one of the stage's greatest ever psychopaths!
Richard III in the press
SENSATIONAL DOUBLE BILL. MARK RYLANCE IS DAZZLING. A GLORIOUS STAR PERFORMANCE. SUBLIME.
Daily Telegraph
Something truly special. A CROWNING GLORY.
Evening Standard
A MOULD-BREAKING PERFORMANCE.
The Independent