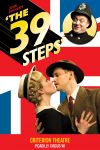 Hitchcock meets hilarious in this brilliant play, an award-winning comedy based on John Buchan's famous novel, The 39 Steps. First filmed by Alfred Hitchcock and now on at the Criterion Theatre London, it's an astonishing theatrical tour-de-force with all 140 or so roles played by just four amazing actors!
Booking from: Wednesday, 6 September 2006
Booking until: Saturday, 19 October 2013
Matinees: Wednesday 3pm, Saturday 4pm
Evenings: Monday to Saturday 8pm
Running time: 1 hour 40 minutes

Playing at the Criterion Theatre.
The 39 Steps tickets - Breathtaking, fast-paced comedy, "a laugh a minute!"
The 39 Steps is one of Britain's favourite films. Now it's been brought to the West End stage with absolutely breathtaking results! John Buchan's The 39 Steps, first filmed by Hitchcock in 1935, has been adapted for the stage in a very clever way indeed. It's unique. It's a laugh a minute. And the entire story is told by just four actors.
Nothing has been cut. The story remains the same, one of our most spellbinding thrillers. This spectacular stage version includes the legendary chase on the Flying Scotsman, the hero's escape on the dark, forbidding Forth Bridge, the terrifying bi-plane crash and even the famously death-defying finale at the London Palladium.
So how do just four actors manage to cover almost 140 roles? You'll love this. A deserving winner of the Olivier Award for Best Comedy in 2007, it's constantly funny and madly fast-paced. The cast of four work at breakneck speed to change roles and characters, sometimes using just a hat. You're so caught up in the tale it's all perfectly believable. Accents, gender and age change in a flash. The timing's excellent. It's a masterpiece in slapstick. And the props are quite simply brilliant.
The simple set miraculously morphs into different landscapes in the blink of an eye. And there's enough cheesy humour to keep you giggling all night – so book 39 Steps tickets now!
Please Note: seats with a face value of £25 in the rear stalls are classed as restricted view (R/V)
39 Steps in the press
Exactly the thing the West End has been waiting for
The Observer
A joyous version of the Hitchcock classic
The Sunday Times