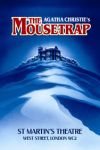 It's been on the West End stage for more than 50 years. It still pulls huge crowds. And audiences are just as thrilled and mystified as ever by Agatha Christie's legendary whodunnit, The Mousetrap. The world's longest-running play, this murder mystery masterpiece is a cracking yarn. And a great night out!
Booking from: Thursday, 1 January 1970
Booking until: Saturday, 21 December 2013
Matinees: Tuesday at 3pm and Saturday at 4pm
Evenings: Monday to Saturday 7.30pm
Running time: 2 hours 15 minutes

Playing at the St Martins Theatre.
Mousetrap tickets – A genuine classic at lovely St Martin's!
St Martin's theatre is home to the classic play, Agatha Christie's legendary Mousetrap. It's interesting to see successive generations enjoying the plot just as much as ever. Times may change. But an excellent story line and plot goes on and on. So jJoin more than seven million of us who have already loved Mousetrap and take in the plot of the century!
The world's longest running play, Mousetrap's reputation goes from strength to strength. The plot twists and turns, the audience are on the edge of their seats throughout and everyone leaves with a huge smile on their face. The plot? A group of strangers, with murky pasts, are invited to a remote country house only to discover, to their horror, that there's a murderer in their midst. One by one the characters reveal their real selves until at the last, nerve shredding moment the identity of the murderer – and the elusive motive - are revealed.
It's a wonderful example of a country house murder mystery and St Martin's theatre is a gem of a theatre, worth a visit in its own right. An intimate auditorium lined with Italian mahogany, with proscenium arches and coats of arms, it's comfortable and welcoming. Everything you need for an event to remember, in a setting you'll never forget.
All aboard... book now for an excellent 30s-style murder mystery London theatre night out!
Mousetrap in the press
A beautifully preserved example of a country house murder mystery
The Stage